Basic Information about Binoculars
Types of binoculars
Binoculars are classified as follows:
Differences between astronomical and terrestrial telescopes
An astronomical telescope (Keplerian telescope) uses convex lenses for both objective and eyepiece lenses, and the image is inverted. It is designed to give objective lens optical performance top priority and minimize light loss, so a prism to rectify the image is not incorporated.
A terrestrial telescope incorporates a prism between the objective and eyepiece lenses to rectify the image. It is convenient to observe erect images of landscapes and objects.
Galilean binoculars
Galilean binoculars are so called because they feature the same structure as that used in the instrument first used by the Italian astronomer Galileo Galilei for astronomical observation in 1609. These binoculars consist of convex lenses for objectives and concave lenses for eyepieces and form erect images.
Because no prism is employed, the binoculars can be made compact and lightweight. However, maximum magnification is up to about 4x. Generally, the field of view is not wide, and the peripheral areas of the field are likely to be out of focus. Opera glasses are usually of this type.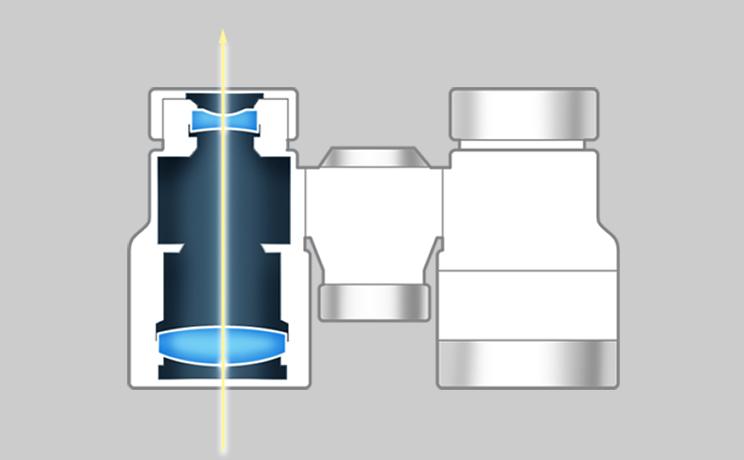 Structure and Optical Technologies
Prisms of binoculars & monoculars
Prism binoculars and monoculars employ prisms in the optical system to rectify an inverted image projected by the objective. The prism also shortens the optical path, resulting in a compact body. There are two types of prism binoculars: Roof (Dach) prism type and Porro prism type, which also have other subtypes.
Porro prism
The Porro prism was invented by Ignazio Porro in mid-19th-century Italy. All of its reflective surfaces are completely reflective, so it loses no light and such binoculars are easy to produce. However, the optical path is bent like the letter Z. Accordingly, this prism system takes up considerable space, so that binoculars with a Porro prism are larger than those with a roof (Dach) prism.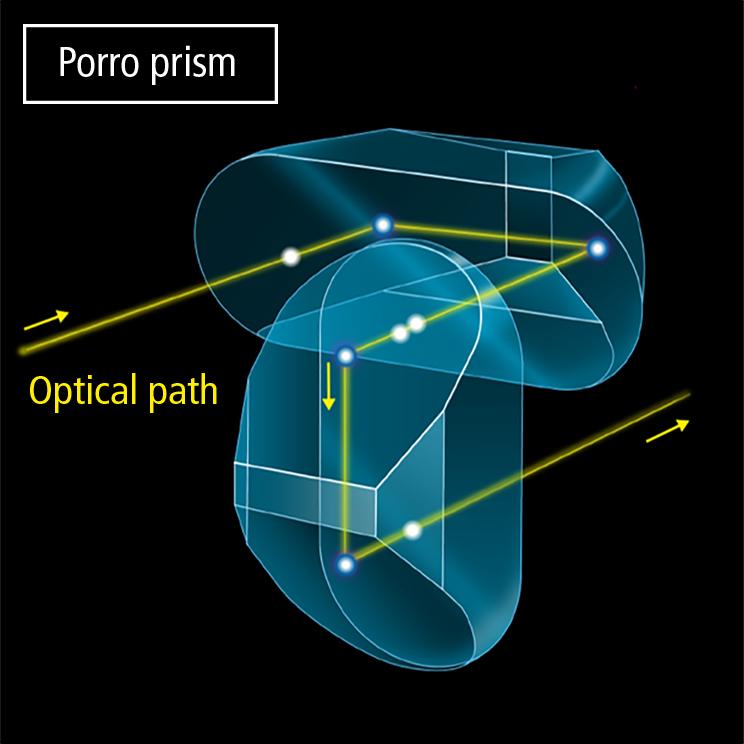 Roof (Dach) prism
Dach means roof in German and refers to the prism's roof shape.
The first prism of the roof prism system has one surface that does not feature total internal reflection, resulting in the loss of some light. To minimize this loss, it is necessary to apply coating on the surface to raise reflectivity.
Also, to produce the roof surface of the second prism that delivers sharp images without a double image or flare, highly advanced technology to process its edge precisely is required.
Because the optical path of the roof prism binoculars is straight, a slim and compact body is realized.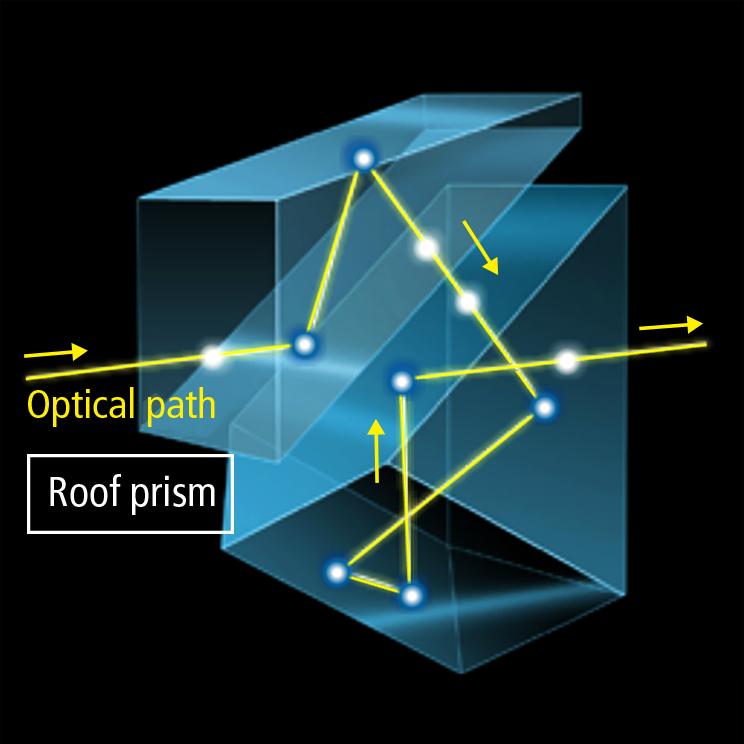 The Abbe-Koenig Prism
The early morning and late evening are usually rush hour at the hunting ground. The game gets on its feet. Bright binoculars are the most important tool for hunting in twilight or in darkness. If maximum image brightness is what you are looking for, the Abbe-Koenig prism is the best choice. Why? This system makes it possible to reverse the image without any loss of light, as the surfaces do not need to be mirrored. The result is a uniformly bright, high-resolution image that really shows off its strengths in adverse lighting conditions.